Make Kern No Kill 5K
Pet MatchMaker Rescue will have a booth out at Hart Park for the Make Kern No Kill 5K and Fall Festival!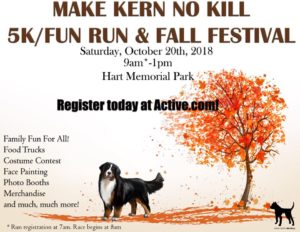 Join the Make Kern No Kill (MKNK) Coalition for a 5K/Fun Run and Fall Festival on Saturday, October 20. Bring your family and furry friends for a fun filled day in the park. Be sure to get your dog dressed in their best costume for a chance to win some cool prizes.
Arrival & Parking Info
The staging area will be located in Section 2 of Hart Park. Signs will be posted at entrances of the park to direct you to the proper area. Parking will be available throughout the park.
Event Schedule
7am- Late Registration Begins
8am- Staging.. Race Begins!
9am-1pm Fall Festival
11am- Dog Costume Contest
Additional Info
Please remember for your safety and the safety of your animal that all animals will be required to be on a leash at all times during the event.