Goat Yoga! Saturday November 10th
Goat Yoga at PMMR is BACK!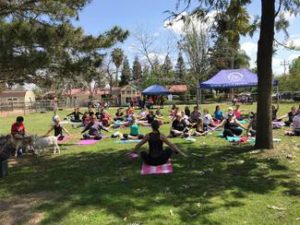 Saturday November 10th, 2018 Pet MatchMaker Rescue is having Goat Yoga 3.0! Thank you to Rochelle Pate for hosting our yoga sessions again!
There will be the fun herd of goats, Beatrice the baby cow, appetizers and (for those 21+) mimosas!!
Sessions are at 11, 11:30, and 12pm. Space is limited so make sure you sign up early!
Session fess are $35 for adults, and $20 for children.
Location: 16612 Palm Ave Bakersfield, CA 93314